Irkoutsk, Lake Baikal and nice meetings
Upon arrival in Irkutsk, we are at about 60 km from Lake Baikal. This city of more than 600,000 inhabitants is ideal to refuel, find spare parts and complete the administrative formalities such as visas for Mongolia (which are not useful anymore now).
We spend our first night near the Angara River which starts at Lake Baikal. As usual, it is very easy to find a spot of nature where to make a fire and fish. Russian particularly enjoy family barbecues near rivers where fishing and swimming are normal practices.
The next day, we go to repair an impact on the windshield of Totoy. We are very well welcomed in the garage MABT Abto and the quality of their service is impeccable. They explain seeing German, Italian, Dutch, but we were the first French. We explain that we are looking for a place to weld a fixing lugs of our exhaust. It was then that one of their client offers to help us Pasha. It has a beautiful Toyota LC 200 V8. Finally after buying a silent block exhaust forecasting repair, Pasha proposes to get his wife and accompany them to swim in a small lake in a private property in the close suburb. The place is very nice. We begin to know each other around a watermelon and a glass of kvass. We go with them in their dacha (country house) located on an island in the river that crosses the city. We discover their huge garden and we feast on blueberries and cherries. We pick radishes and dill to prepare cold soup that we eat together later in their apartment. The same evening we sleep at home because they want to take us to Lake Baikal tomorrow.
We discover with them the southwest mouth of Lake Baikal where the Angara River starts. It is a very tourist place where Russian enjoy going there on weekends to picnic, swim and share a good time around fish, such as smoked omul, which is an endemic species of Lake Baikal. From this location, we can see the mountains from the banks which are about 30 km.
Lake Baikal is the lake that contains the largest amount of freshwater in the world. Its depth varies depending on the area and reaches 1637 meters in one place. In the small museum dedicated to the history of Lake Baikal, an aquarium has been specially designed to accommodate two seals, these species being present in the lake. We also note the presence of sousliks, black squirrels, and a multitude of birds. Back to Irkutsk, we spend another night with our guests.
The next day, Pasha guides us into the city in search of a garage able to weld our exhaust. There are a multitude of small businesses specializing in the sale of auto parts. We even found a huge mall where all the shops were dedicated to auto parts. When we walk in this large area, we seem to wander the aisles of the exhibition "Equip auto". A paradise for car enthusiasts. Pasha finally found a good place and this professional will not spend much time to fix our exhaust.
We then return to MABT Abto so they put a solar protection film on the front side windows. It costs us about 30 euros for the two windows. In the late afternoon, we go to the dacha for watering the garden and especially take a bath in the river.
The next day, Pacha detects that Céline has a bandage ankle and we explain that it is pain that persists for a sprain in Germany, three months earlier. Pacha working in the rail, invites us to accompany him in a clinic dedicated to employees of the company. After making radios, the doctor confirms that there is nothing broken, but advocates sessions rays. We stay two additional days to perform these daily sessions.
It is now time for us to continue our journey to Lake Baikal. We can not thank enough Pasha and his wife for their help and hospitality and all that they have taught us about Russia.
On the southwest shore of Lake Baikal, we stop to Vydrino, where locals come to bathe in lakes in the forest, the water is relatively warm. The next step lies in Posolskoye where the shallowness allows water to warm up, which makes swimming enjoyable even without drinking vodka before. In this area, local invade the beaches with their cars, tents go up among the bushes, the smell of grilled meat and fish mix with the sound of radios.
The group who is about 10 meters from us make the sign of Russian rallying which is a thumb on the throat which means it's time for a drink. Let's go for an evening where shots of vodka and homemade whisky are linked together while enjoying fish soups, salads and of course grilled meat. Russian hospitality is extraordinary and their festive spirit with family is very close to that of the French.
The alarm clock is a little difficult, but a good bath in the Baikal is a good awakening and we take the road to the north, in the delta plains where herds of horses and cows roam freely. At day's end, we find an isolated place to camp, but we are not really alone, because sousliks go out of their burrows and stand on their feet to watch our installation. A little later, a car stops at our level, it is a fisherman and his wife that we saw a few hours earlier. We exchanged a few words, they bring us a pike freshly caught and propose us to pick milk on their farm. We prepare pike and find the village to participate in the milking of their cows and enjoy a glass of warm milk. Discovering their farm, we feel back 30 years ago and quickly understand that the inhabitants of these villages live almost self-sufficient, away from intensive agriculture and consumer society that has already invaded the country.
Our stay in Russia is nearing completion. We now take the road to Mongolia after a stop in Ulan Ude, where we fill water with the pumps (identifiable by their blue color) that lie in the streets of towns and villages of Russia. After this stop, the landscape changes very quickly and give way to vast expanses of steppe.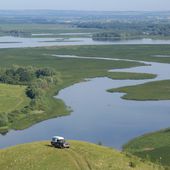 View the album on Flickr.
https://www.flickr.com/photos/around-the-rock/sets/72157645321775287/
Share this post