From Moscow to Irkoutsk on the Trans-Siberian Road
We arrived in Moscow on a Saturday morning which allows us to drive in good conditions. Katia, a friend of Yuri welcomes us and puts us in direct contact with Elina, a young journalist for who the capital has no secrets. She hosts us for 3 days and we visited the city with her. We keep excellent memories of Moscow nights, during which Elina takes us from bar to bar where concerts follow as well as shots of vodka. We are still a little disturbed by this noise back after two months in the silence of the taiga.
After this stop in the capital, we resume our journey on July 1, heading East.
Ah ! the Trans-Siberian route…, the mythical Trans-Siberian... the one who makes us dreaming, the one who is synonymous with adventure, great expedition to the Far East.
How are the landscapes? Is the road in good general state? Do russian people welcome foreigners? Will we have problems with the police?

But what then? So here we go, we share with you our experience.
We take the direction of Nizhny Novgorod and drive on a highway in very good condition, with heavy traffic of trucks. Work is regularly performed on different sections to keep this axis in perfect condition. But here, no possible deviation for the work, as we drive in the middle of dense forest and there is only one main road. The flow is therefore cut off alternately and in the case of four lanes, they are reduced to one or two lanes.
Truck traffic is such that it generates kilometers of traffic jams. We covered about 250km in 4h. We pass through many villages, brand new service stations are numerous, you can pay by credit card in most stations and they are often open 24h/24.

But then it means you can go to Lake Baikal with our car? At first glance, yes...
Except for our part, we like to get away from the main road to eat or bivouac. Follow tracks, discover lakes, see the sunset over the lake, get in the shade of pine trees to find some freshness; all this is a great way to forget the asphalt and the traffic jam.

Russia is huge, landscapes vary a lot as we progress. It passes through forests of pine and birch, swamp areas, hilly landscapes of the Urals and large cultivated plains.
Among the cities that we cross, we fall under the spell of Kazan along the Volga, with its Kremlin (fortress), which includes buildings of all religions in Russia (Orthodox, Catholic, and Muslim). We stroll around the streets of the historic center, where the multicolored buildings are all more beautiful than the other.

In general, on the Trans-Siberian large cities (more than one million inhabitants) are close to rivers with various industrial activities. We cite as an example of Naberejnye Tchelny, where KAMAZ trucks are manufactured, but also oil operations around Ufa.
It is precisely in Ufa we meet Vladimir, a friend of Yuri, who has worked in several natural reserves across Russia. Now retired he tells us his experiences with the Russian fauna and especially with brown bears, elk, and even Siberian tigers. Near Vladivostok, he worked on the preservation of tiger protecting its habitat with the support and commitment shown by the government. We stayed one night with him and have tasted local specialties prepared by his wife and daughter.
Upon arrival in Novosibirsk, we drove about 10 000km since leaving Normandy. It is time to drain the engine and make the 2nd rotation of wheels (operation we renew every 5 000km). We regularly see ramps along roads to monitor the condition of the vehicles. It is therefore the ideal place to drain and change the oil filter. This done, we add our usual dose of hyper lubricant MECACYL. Then we place our waste oil in Gazprom station. It is now 11 am, the thermometer reads 35°C, we find a shady parking for changing wheels. This operation is noticed by Russian workers who engage conversation and take pictures of the vehicle. After a visit of Totoy, they refuel us water and then we make them taste our Calvados that they appreciate a lot despite the heat.
The climate is continental in this region of the world which means that there is harsh winter and hot but brief summer (July and August). Since we left Moscow, we had a very sunny weather with temperatures between 25 and 40 degrees. Under these conditions, it is very nice to find a river to bathe as do most Russians. It is also by looking for a nice place to refresh that we make a fright. Indeed, by engaging on a track towards a river, we see quickly this track is not used anymore and the deep rut associated with tall grass may surprise us. So we make an about-turn, and a little further, we avoid a stump without seeing a few meters away, there is another well hidden in the grass. The vehicle stops. We think first that the rut in which we are, put us in banking, causing a lateral differential effect, because both passenger side wheels rotate in a vacuum. We try to move back, but in vain. We must get to the evidence, the car is stuck.
In fact, the front deck is placed on the stump in the tall grass. We use the Hi-lift to raise the vehicle, put a wooden board under the right front tire and a waffle board under the right rear wheel. Celine takes the wheel, engage reverse and go smoothly out of the rut. We check if there is no damage on the front deck and go back on the track normally. In this kind of situation we always keep calm and take the time to analyze the causes of the problem to make the right decision. If the situation had been more difficult, we had a kinetic recovery strap, a plasma rope and pulleys allowing us to get out with the help of another vehicle. This story reminded us of the driving courses we did (see video below).
After this little mishap, we finally find another access to the river where we can finally enjoy a good bath.
We continue our journey and arrive in Omsk which is roughly halfway between Moscow and Irkutsk. Traffic is flowing, but the last 500 kilometers are more difficult because there are roadworks in progress that generate delays.
We are pleasantly surprised to see some drivers' inch rise when they arrive at our height. All these signs of sympathy show that Russians are passionate about 4WD, it is true that our visual with white rhinos and lemurs attract attention. We have also noted that they give more and more importance to the protection of fauna and flora.
The police are very present on the Trans-Siberian and there are many radar controls. For our part, we have not had a problem, we drive quietly and never exceed 90 km / h… fair and softy goes far in a day. It is certainly possible to meet some corrupt policemen, but attitudes are changing and onboard cameras have a deterrent effect.
On July 12, we finally arrive in Irkutsk after traveling 5,330 kms. During our trip we were hosted in Moscow, Ufa and Irkutsk which allowed us to obtain reliable information and to see the country through the lives of its inhabitants. Céline talking a little Russian doors open more easily and as we have a problem with GPS, we travel with cards but mostly chatting with the locals.
We can therefore conclude that this road surrounded by vast natural areas gives us a feeling of freedom. You can stop anywhere to sleep in totally isolated places where Nature with a big N is offered to us. But the journey is nothing without meetings. Spend time with people is always an unforgettable experience.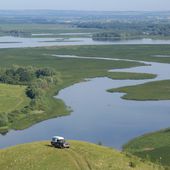 View the album on Flickr.
https://www.flickr.com/photos/around-the-rock/sets/72157645321775287/
Share this post