In the land of elephants, but also of Asian black bears.
We arrive in northern Laos on November 3 and head towards Luang Namtha which is within the area of ​​the Golden Triangle, known for its opium traffic.
We are surprised to see so many tourists and it does not really delight us. The north is famous for trekking in the jungle, so we try to go to a remote village in the protected area of Nam Ha. We take a track on about ten kilometers and arrive in a village located on a ridge in the middle of the jungle, which is not really a virgin forest, since there are many plantations and deforestation is already underway. It is true that if we take a quick glance it seems that the forest is virgin, but if we take a closer look at it, we see that evidence of man is everywhere especially with rubber, banana and other crops. The children quickly gather around us and around the vehicle. The kids are mostly shirtless, as are some women working in the plantations. A kid caught an animal that looked like a large rat. The poor beast suffocates because a string is tightened around his neck. He swings it and indicates us that he will sell it to us for our meal. We tell him it would be better to release, but the Lao people eat everything they find in nature. We are also surprised not to hear a lot of birds. This small track that leads to this village is dead end and we find no place to settle down for the night. The language barrier is really problematic and therefore we decide to come back to Luang Namtha to bivouac in the ideal campsite we had found the night before: near a temple, where there are toilets and water.
After a week in this area, we decide to drive to the elephant conservation center, which is run by a French NGO who is likely to welcome ecovolunteers. Coincidentally, just as we are setting off, the head of the NGO 'Free the Bears' contacts us to learn more about our project. A brief meeting in Luang Prabang allows us to get to know and explain the main points of our trip. Matt understands our approach and proposes that we manage the expansion of an enclosure in the reserve Tat Kuang Si where there are about 30 Asian black bears.
The australian NGO Free The Bears is present in Cambodia, Vietnam and Laos and retrieves bears who are victims of human cruelty. Indeed, specialized farms lock bears in cages where they can barely stand, while 'farmers' extract their bile which is then used in traditional medicine. This extraction process is very painful for bears and they will stay in a cage 24 hours a day until they die. One of Free the Bears missions is to recover bears before they are sold on to farms and offer them a better future ... although, unfortunately, they can not be released into the wild, because they are no longer afraid of humans and therefore they would quickly be recaptured.
The enclosure where Matt offers us to work is intended to accommodate orphaned cubs and one adult bear that has undergone surgery to the brain.
We obviously enthusiastically agreed to embark on this project with the objective that the cubs are released into the enclosure before the end of the year. The work is physical and tricky because we do not create a new enclosure, but add an extension on to an existing enclosure. Two Lao people joined us after a week during which we had created trenches for foundations and delivery of bricks between the paved road and the enclosure in the forest.
We completed all the brickwork with them and started the installation of the steel structure before another Lao guy joined us to weld.
For the moment everything is going well, as you can see from these pictures.
Since coming to bear sanctuary, we have camped next to the river, near the center. We come back from time to time to Luang Prabang, and stay on the premises of the NGO, who allows us to use their bathrooms, their washing machine and also their motorcycle that we repaired... Luang Prabang is a tourist town where it is nice to walk in the pedestrian streets and visit the many temples accross the city.
Shortly after our arrival at the center, we participated in an evening with some of the Free the Bears staff. Lao, Cambodian, French, English, American, German and Irish were gathered around a barbecue, an opportunity for us to take our small folk guitar.
On December 11, it was New Year for the monk ethnic group. Lar, our friend who works for Free the Bears, invited us to his house to share the evening with his family and team members. We attended a shamanist ceremony during which the father of Lar made a ritual to three of us. The evening continued around many typical dishes and then to the rhythm of music that Lao children played on the guitar. For us it was a wonderful moment.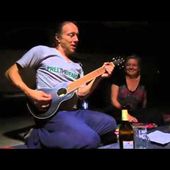 Uploaded by Anthony - Céline on 2015-12-16.
https://www.youtube.com/watch?v=KtSu-sh1Va0&feature=youtu.be
Share this post