Totoy - On a Kirghiz TV show
Please, click on the "subtitle" icon, at the bottom right of the screen, to see the english and french translations.
Before we left the country, Totoy was on Kyrgyz TV in Autodrive show. Kyrgyz and Russian have a passion for cars including 4x4, so it is a very popular show. An opportunity for our partner Euro4x4parts.com, to get noticed.
Прежде, чем мы покинули страну, Totoy был на ТВ в Кыргызской Autodrive шоу. Кыргызы и русские люди имеют страсть к автомобилям, включая 4x4, так что это очень популярное шоу. Возможность для нашего партнера Euro4x4parts.com, чтобы их заметили.
Translation :
Toyota Land Cruiser has a very rich history. The history itself starts from 1951 when first TLC was produced.
(00:15) Today we would like to speak about very scarce and interesting model of TLC KZJ73.
(00:48) This model is really "endangered species", very infrequent. At the time of year 1995 model TLC 80 was more popular. In fact there is not much information about 73's model. But spending some time searching in Internet on variety of forums I finally found some useful information.
(01:09) Let's see. At first, this car was offered in 4 different complete sets of engine: petrol engine, diesel, turbo diesel and turbo petrol engine. What we have is turbo petrol engine,V3,0, 125hp. "Just 125?"- you would ask. But in spite this it has a huge clearance and torque that makes this car to be very fordable.
I wouldn't say that we have to focus on the look of this car. Because if you buy this model of car you want to drive off road. And exactly this car has a very big and interesting history.
(02:11) To pass long distances they put 2 gasoline tanks and made such a small tail-pipe. Also you can see by yourself high clearance and pay attention to shock absorbers. Everything in this car was made by hands, seamed, welded, to drive by this car around the world. Can you imagine this? Me not.
(02:43) They live here and made a lot in this car for themselves. In this car they even have a shower. I'll show you now.(02:55) It looks like this.Just turn, take it and this is a miracle!
(03:27) Here in this car we have a built-in compressor. For example, if somewhere in the mountains of Kyrgyzstan the tire would flat and service station is far away with this built-in compressor you can pump a wheel by yourself.
So you can live in this car. It's just a house on wheels.
(03:50) I think in every house there is a bag for plastic bags. I want to ask how long ago have you seen "avos'ka"? It's also a kind of equipment not to have a lot of plastic bags and not to throw them away near the big malls. I think it's so genius, simple and chicly!
(04:26) Now let's have a ride on this car. Aw,it's so high!
(04:58) Oh, it's so powerful. By this car I would have a world tour as well, because I really like it. It's like when you come to someone's house and you feel comfort inside. The same is with the cars,some are comfortable,but some not. This car is so simple, but very-very comfortable. You can feel in this car just like at home.
(05:47) The seats have very comfortable lateral support.
Of course, the angle of turn is big,but it's not a problem.
Surely if you buy this kind of car you buy it not for comfort, but to drive off road. So, my friend, be ready for jiggling and swaying.
(06:23) Oh, what this car is doing with me?! I don't concentrate on softness or hardness of this car. It symply has its name, soul and history. And to make a conclusion I would like to say if you pump a car, first put the soul inside!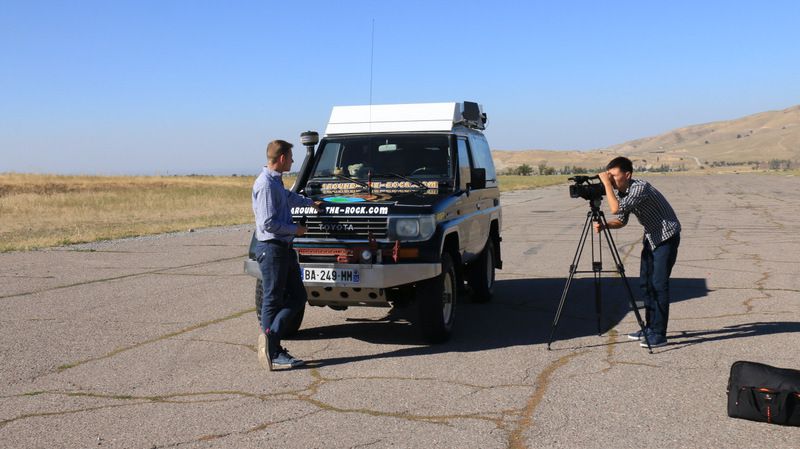 Share this post