Ecovolunteer Expeditions Kyrgyzstan
We were very proud to be able to organize two expeditions and to have our French eco-volunteers-also supporters of our charity Around The Rock- travel over to Kyrgyzstan. The vice-president and the rangers of the Naryn and Song-Kul reserves were very pleased with the results of our actions on-site. Undoubtedly they view eco-volunteering as an added value and are prepared to renew the experience in the future.
We wanted to make eco-volunteering easily accessible to everybody - we managed to gather a group of volunteers aged 24 to 62, all sharing a same passion for nature despite having very different professional backgrounds.
We are grateful to Bastien Chaix for his professionalism and for having shared with us his passion for birds of prey and other wildlife species of Kyrgyzstan.
The strength of eco-volunteering also lies in its team spirit and in the positive mindset of the participants, which is another reason why both expeditions have proven successful.
We managed to remain in line with the initially scheduled program, despite adverse climatic conditions during the June expedition, during which we were nonetheless fortunate enough to be able to watch numerous birds of prey (golden eagle, booted eagle, short-toed eagle, Himalayan vulture, bearded vulture...) as well as animals that would normally only rarely be seen, such as Tian-Shan brown bears, Marco Polo bighorn sheep, ibexes and a wolf.
The continuously dry and sunny weather during the second expedition allowed for additional projects to be rolled out, such as removing the waste and rubbish from the Song-Kul lake shore, haymaking for deer food and mending the roof of one of the huts in the Naryn reserve.
Traveling from one camping spot to the next on our horses were incredibly intense moments allowing each of us to keep their cool even in the steepest climbs, thanks to our Kirghiz horses which always remained gentle, strong and entirely reliable even on the most rugged terrain.
We wish and hope for this eco-volunteering project to be carried on in the long run with Bastien and other eco-volunteers.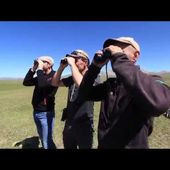 Best of Expéditions écovolontaires Around The Rock au Kirghizistan (Asie centrale)
Voici quelques bons moments filmés lors des expéditions réalisées en juin et juillet 2015 au Kirghizistan avec des membres de l'association Around the Rock, tour du monde écovolontaire, à la ...
https://www.youtube.com/watch?v=zA7fmwakXGA&feature=youtu.be
Here are some pictures of our trip
Share this post