Insect hotel in the school of Gouvix - France
Our friend Yannick Morel acting daily to preserve nature, tells us one of his actions in the school of Gouvix - France.
The goal is to educate children to the preservation of biodiversity, and especially to teach them to respect all living beings even those they know little and they sometimes fear. The group consists of 15 children... the adventure begins!
The making of the insect hotel began with the presentation of different hosts who may occupy this space. We chose the Douglas-fir wood for the construction of the structure. This wood requires no painting (it is used for cladding of wooden houses). It will take a slight patina and create after a period of time a kind of impermeability. This wood is naturally resistant to most fungi and has the property of hardening with time.
Insect Presentation: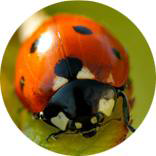 Ladybirds: their larvae feed on aphids.
> Collect fallen leaves, pieces of bark, bricks, tiles or stack logs.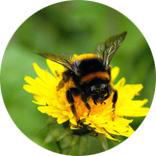 Bumblebees: pollinate flowers.
> Build a box with a 10mm diameter hole and a flight board before.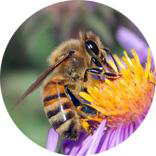 Bees and solitary wasps: pollinate flowers and their larvae feed on aphids.
> Wrap a reed mat (or bamboo) and plug one end pierced with clay or soil.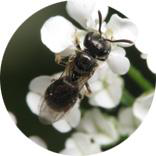 Solitary bees: pollinate flowers.
> Find bricks and fill them with a mixture of clay and straw.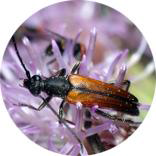 The wood-boring insects: feed on dead wood they decompose.
> Stack of old pieces of rotten wood.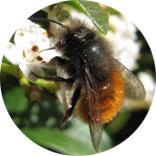 Bees and solitary wasps (as Osmia): pollinate flowers.
> Bamboo rods or breakthroughs logs.
Hymenoptera (hoverflies): pollinate flowers.
> Get limp stem (brier rose, raspberry, elderberry ...) and press together.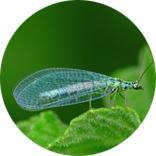 Lacewings: their larvae feed on aphids, mealybugs, whiteflies (or white flies), thrips or mites eggs.
> Make a sheltered box filled with packing fibers, straw or pine cone and do some openings to slots.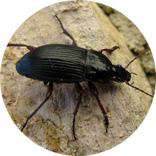 Ground beetles: predators of slugs and aphids.
> Choose pieces of branches or pierced bricks.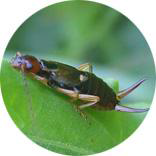 Earwigs (earwigs): feed on aphids.
> Recycle terracotta pot and fill it with wood or straw fibers.
Some drawings of hotels designed by children: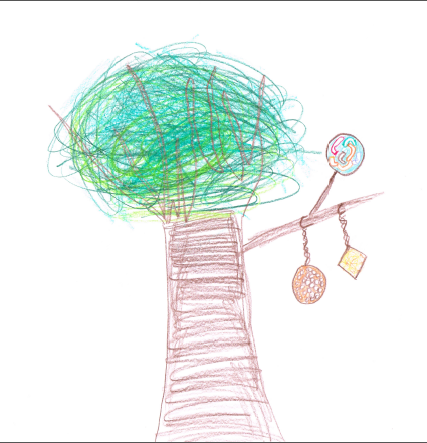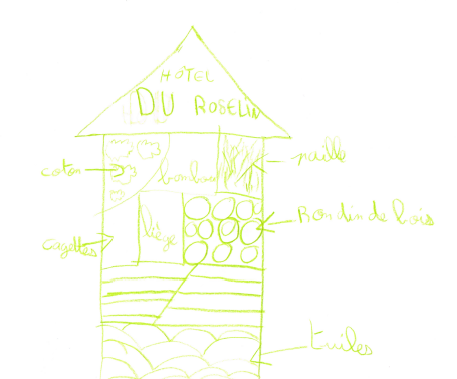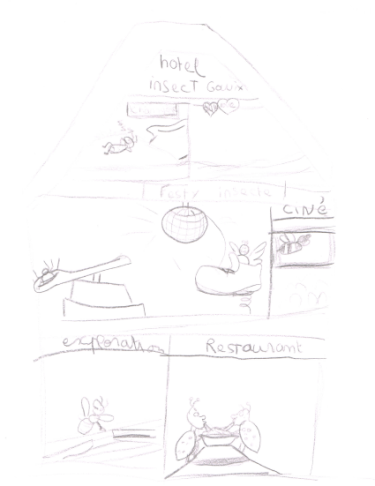 The making of the hotel:
The various recycled materials were cut, drilled and carved by childrens. 5 sessions and some evenings (for me) have produced enough material to fill all the hotel areas.
In recent sessions, each student was able to build a small shelter for ladybirds he may suspend in his garden, a simple way to get a message across in families and reward children.
Photos of the insect hotel: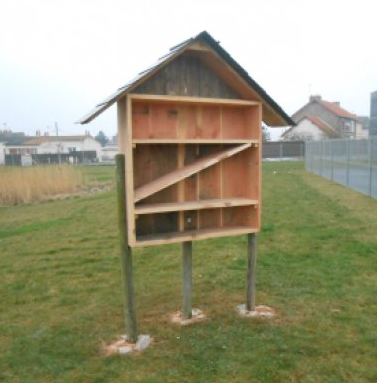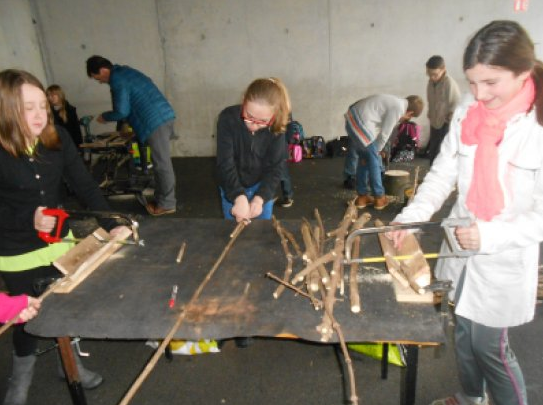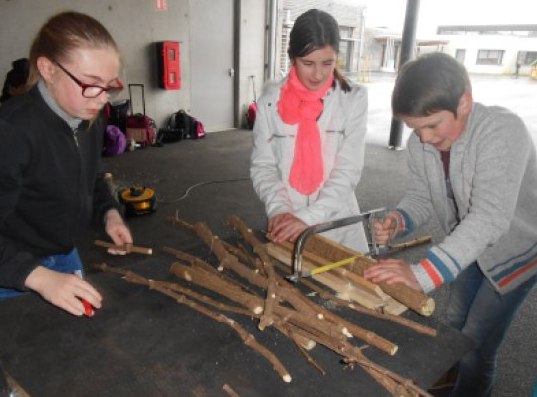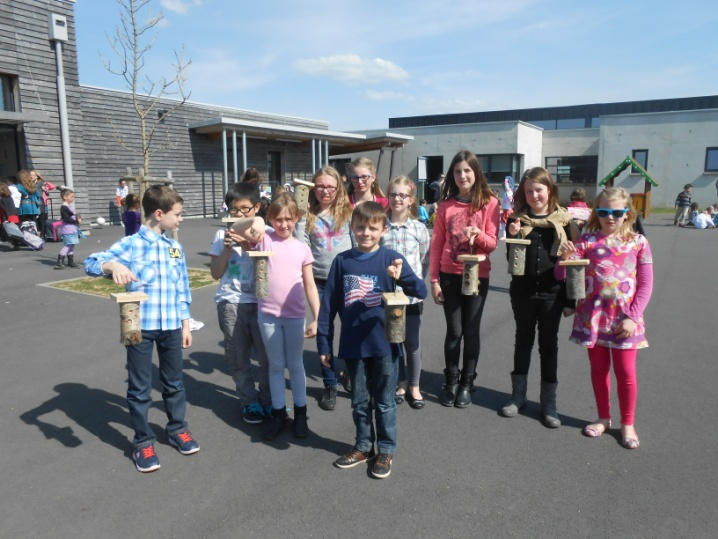 Newspaper article: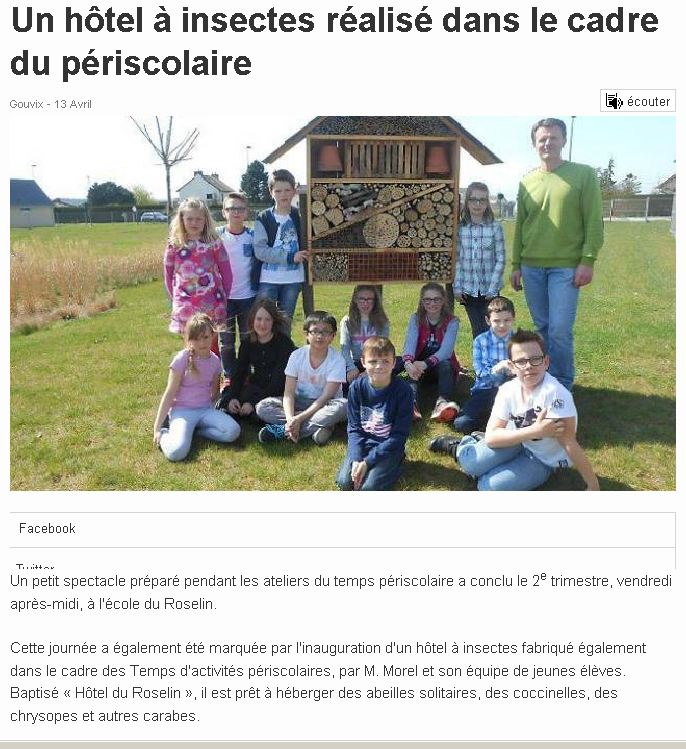 Invite biodiversity in your garden:
During the winter, you can also arrange all kinds of shelters for other animals to keep them in your garden: bundles of wood, piles of stones or rocks, grass ... those shelters that people manufactures itself are as pretty than useful!
By creating an environment to balance a diverse number of plant species and a varied range of animals, you will encourage biodiversity in your garden.
These friendly animals help us to fight against pests. These may be birds, reptiles, amphibians, mammals, insects that feed or parasitize the enemies of our crops. We must therefore seek to attract them as they bring valuable assistance. The main species are: The Spider, the weasel, beetle walleye, ladybug, bat, snake, toad, lacewings, parasitic wasps, frogs, hedgehogs, lizards, the shrew, bird, raptor, tack, the hoverfly.
Host these useful guests who will thank you in the spring!
Some pictures: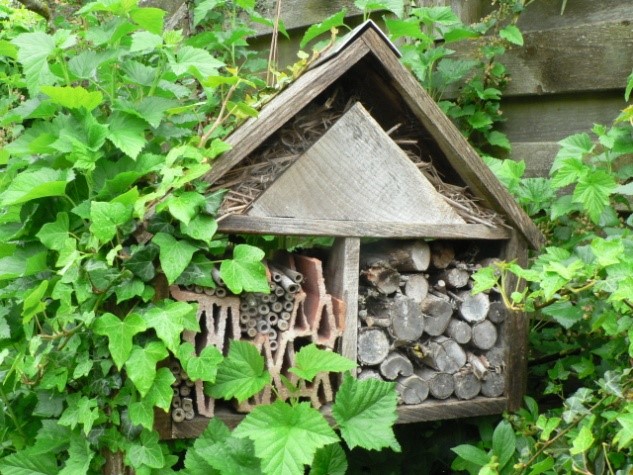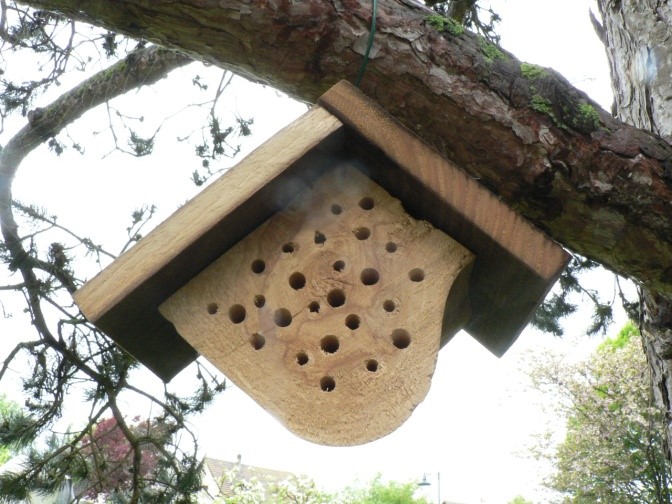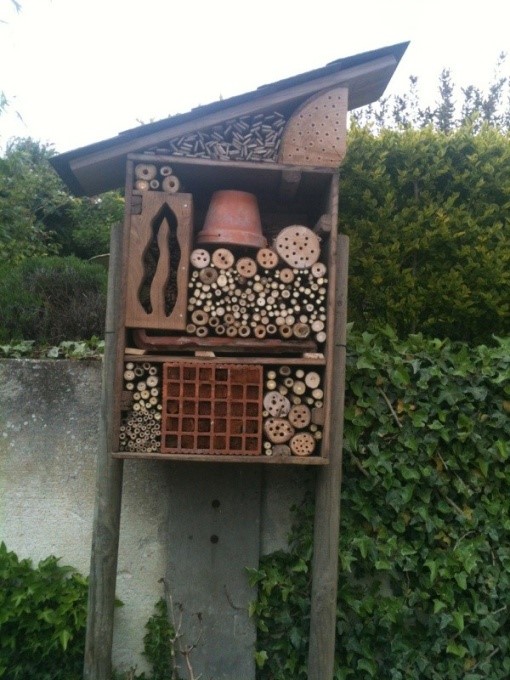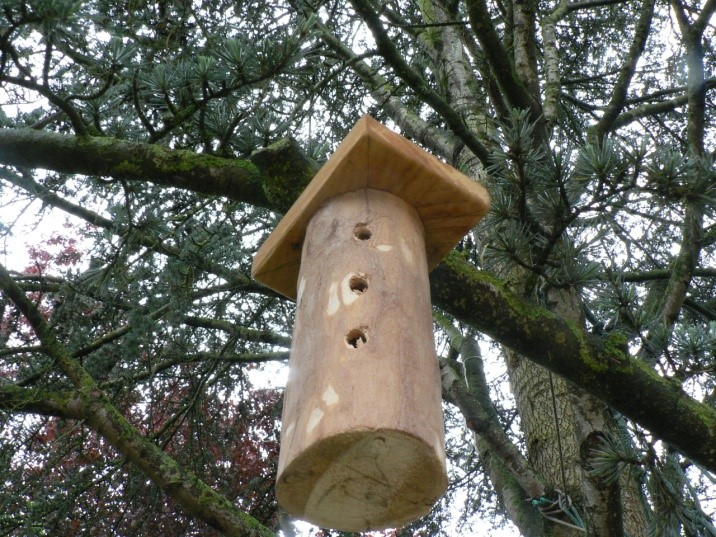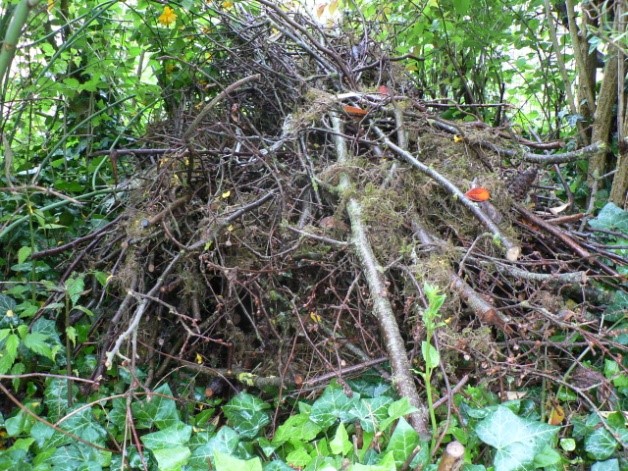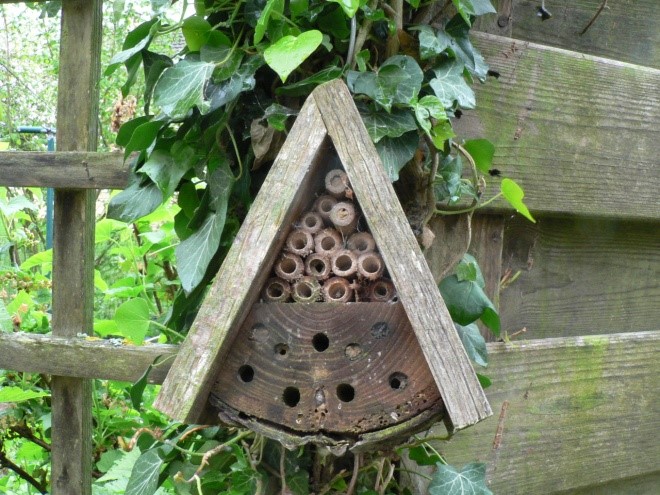 The house of the hedgehog of our garden.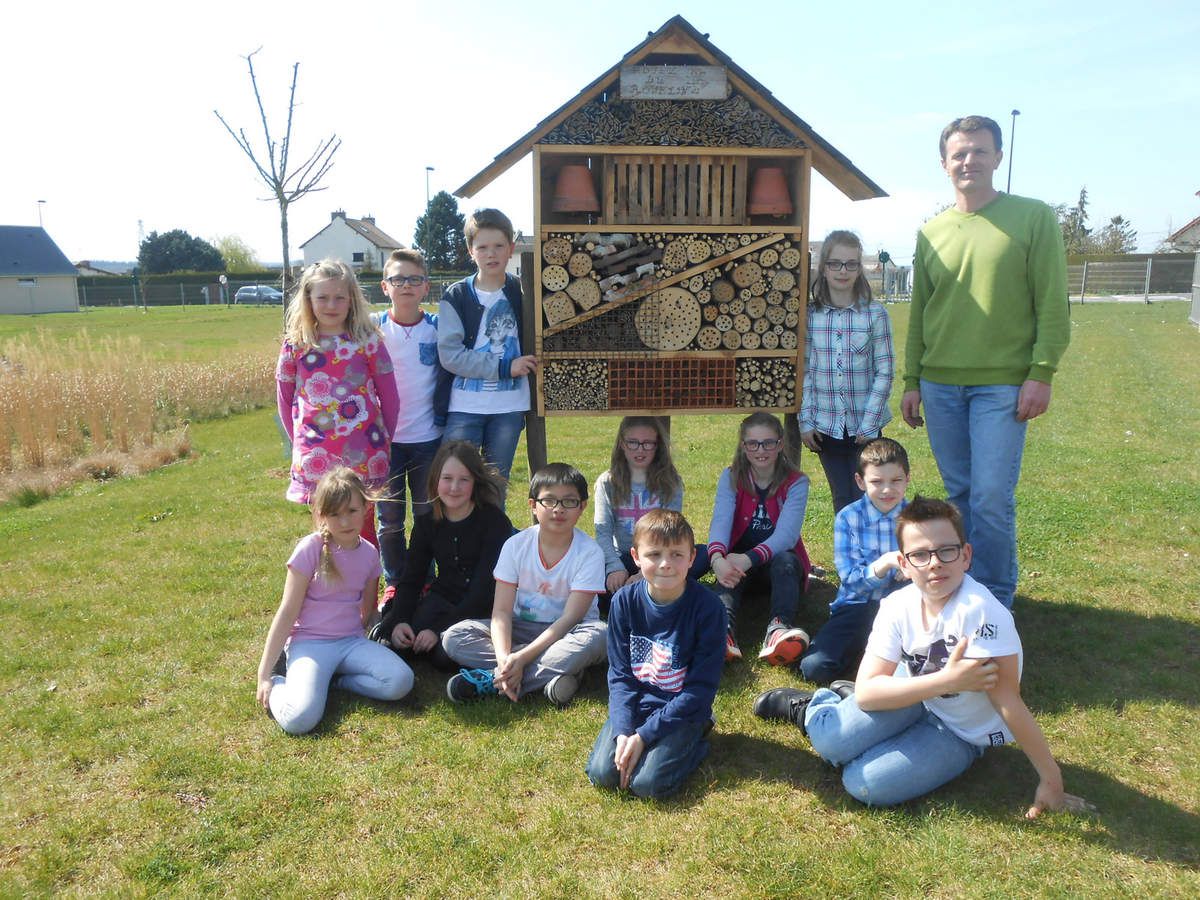 Share this post